THE LAW ON FREE ACCESS TO PUBLIC INFORMATION WORKSHOP
17.02.2020
The Agency for the Protection of the Right to Free Access to Public Information, in cooperation with the Center for Civil Communications, held a workshop today where issues and dilemmas arising from the new Law on Free Access to Public Information were discussed. The purpose of the workshop was to overcome certain perceived dilemmas and ambiguities in the function of consistent application and implementation of the Law.
Members of the working group that drafted the text of the new Law took an active part in the workshop as representatives from state institutions and as officials of holders of information, representatives from the non-governmental sector as direct beneficiaries of this right, and the representatives of the Secretariat of the Agency.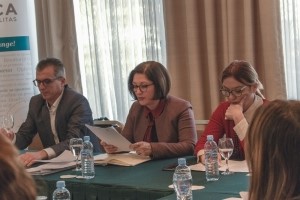 The director of the Agency, Plamenka Bojcheva, and the president of the Center for Civic Communications, German Filkov, initially highlighted the dilemmas regarding the implementation of the new Law on Free Access to Public Information.
Dr. Ana Pavlovska Daneva, a professor at Skopje's "Justinian the First" Faculty of Law, provided more clarity on the lingering legal questions and issues in her position as an expert witness. In addition, the remainder of the audience participated actively throughout the conversation, adding their insights and knowledge from their own experiences applying the Law to specific situations.