TRAINING FOR THE PUBLIC OFFICIALS WHO HAVE RECENTLY BEEN REGISTERED AS HOLDERS OF PUBLIC INFORMATION
17.09.2020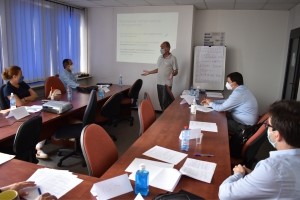 The Agency for the Protection of the Right to Free Access to Public Information held today the first in a series of planned one-day trainings on the topic: "Application of the Law on Free Access to Public Information" (Official Gazette of RSM No. 101/2019), and whose implementation started at the beginning of 2020. 
With the training carried out in specific conditions with consistent observance of the measures to prevent the introduction and spread of the Covid-19 Coronavirus pandemic and the corresponding protocols, four out of six invited officials were included to mediate information from the same number of institutions, recorded in the List for the first time this year of holders of public information. 
The main goal of the training conducted by the expert lecturer at the Agency, Cvetan Stanoeski, is the training and education of the public officials, i.e. to train them how to respond correctly and promptly to requests for free access to information in accordance with the Law adopted in 2019.
Compared to previous training sessions, this educational meeting had a different concept but also emphasized the interactive and intercommunicating approach. Thus, the officials had more time to debate and ask questions pertaining to the new legal provisions, clarify dilemmas and exchange opinions regarding the application of the Law.