THE AGENCY MANAGEMENT MEETS THE HEAD OF THE OSCE MISSION IN SKOPJE
06.02.2020
The Director of the Agency, Mrs. Plamenka Bojcheva, and the deputy director, Mr. Blerim Iseni, met with a group from the OSCE Mission in Skopje today. The visit was led by the Head of Mission in the country, Ambassador Clemens Koja.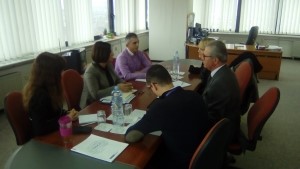 The attendees of the meeting discussed the Agency's leadership's activities and the results in the period January-February 2020, i.e., after the recent Commission for the Protection of the Right to Free Access to Public Information was transformed into an Agency.
The Agency's managers provided information on the 750 complaints that have been resolved and processed thus far, as well as the initiated and upcoming activities and procedures for the adoption of the by-laws, the functional analysis, and the new systematization, with an emphasis on the challenges of implementing the new Law on Free Access to Public Information.