PRESENTATION OF THE GUIDELINES FOR IMPROVING TRANSPARENCY OF PUBLIC SECTOR INSTITUTIONS
20.02.2023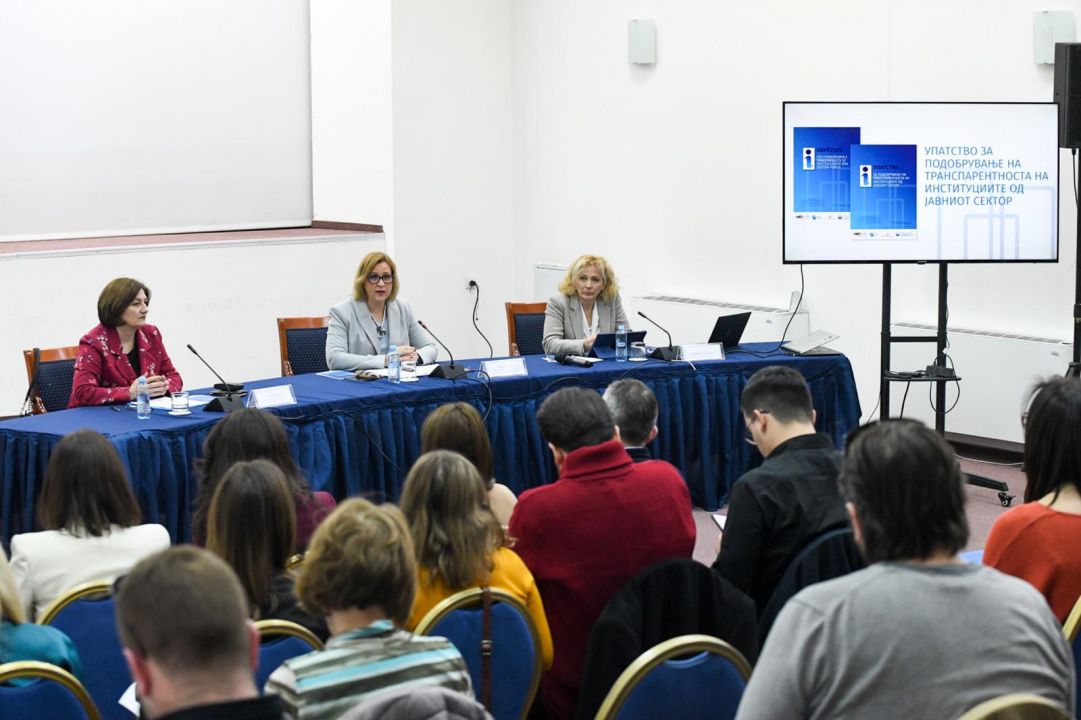 The Center for Change Management (CCM), the Agency for the Protection of the Right to Open Access to Public Information, and the Office of the Deputy Prime Minister in charge of good governance policies presented their Guidelines for strengthening the transparency of public sector organizations at a press conference today.
Slavica Grkovska, the deputy of the Prime Minister in charge of good governance policies, Plamenka Bojcheva, the director of the Agency, and Neda Maleska Sachmaroska addressed the press conference with their speeches before the present representatives from the institutions, the holders of information, journalists and civil society organizations, the executive director of the Center for Change Management.
"Everyone has the right to the information that will allow them to understand the big picture of the system, the budget, and the use of public funds, as well as the ability to spot flaws, incompleteness, and raise red flags about any discrepancies they find. Not only are institutional transparency and accountability crucial to combating corruption, but they are also necessary for bolstering integrity", Grkovska said in her speech.
Director Bojcheva emphasized that "the legal obligation to publish information actively is based on the principle of transparency, accountability, and responsibility of institutions to citizens who have the right, but also the civic duty, to know how decisions are made on their behalf, what are the results and outcomes of those decisions, how public funds are spent, what services they can request and receive from the institutions, etc."
Bojcheva also emphasized that our country is moving in the same direction as other modern democracies regarding the active and up-to-date publication of data, where the practice of submitting requests for access to information as a very lengthy administrative procedure is dwindling. 
In addition, Neda Maleska-Sachmaroska voiced her support for the effort taken by the government and Deputy Prime Minister Grkovska to increase the level of openness within the various institutions.
"Since citizens fund the operation of public sector institutions and those institutions generate vast amounts of data and information under their purview, all data (save for personal data and classified information) belong to the citizens and should be disseminated, or "opened" in an open data format. Public procurement, financial operations of the institutions (travel expenses, daily expenses, use of official vehicles, number of employees in public sector institutions, and persons engaged on other grounds), and data on elected and appointed persons were found to account for the largest share of requests for access to public information addressed to information holders over the past three years", concluded Maleska-Sachmaroska.
You can download the manual from the following link:
Guidelines for improving the transparency of public sector institutions